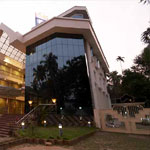 19/, 20 East Nada, Guruvayur Guruvayoor, Kerala 680101, India
Kanoos Residency, a centrally air-conditioned luxury hotel with 4 star facilities, in Guruvayoor, Kerala.
Srivar HotelsWest Nada, Guruvayur,Trichur , Kerala
Srivar Hotels boutique hotel offers you the chance to be as close to Guruvayurappan as your heart desires. At Srivar, we ensure your comfort and peace of mind so that nothing disturbs your prayers.
starting from
0/night